Feature Items
Home >Whole House Water Filter > Well Water Treatment
Flexlite FL Composite Tank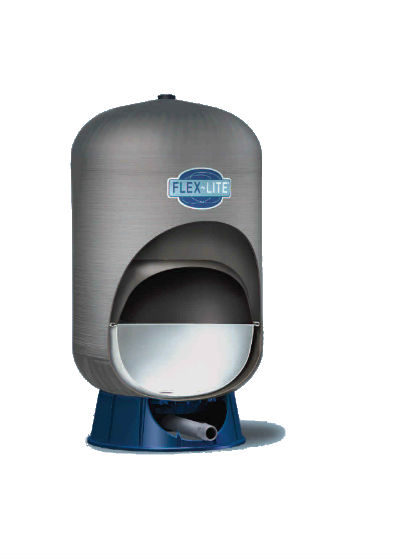 Fibrewound Pressurized Tanks.
The Flex-Lite FL seriesí improved CAD-2 diaphragm design is stronger and wonít crease and wear out like bag designs. It features a chlorine resistant 100% butyl diaphragm with a precision molded copolymer polypropylene lower water chamber for superior air and water separation.
This patented design allows each size tank to have a properly sized water chamber, matched to the drawdown performance of that tank. When it comes to performance and durability, the CAD-2 system cannot be beat.
Product Specifications:
Top and bottom domes: Injection molded co-polymer polypropylene
Shell: Extruded copolymer polypropylene
Outer shell: Fiberglass-wound, coated with epoxy resin
Water chambers: Top diaphragm is 100% butyl rubber, lower water chamber is copolymer polypropylene
Base: Copolymer polypropylene
Connection: Rigid PVC
Air valve: Brass shrader valve with o-ring seal
Available Models and Description
Model

Maximum Capacity
DIA X HGT
Draw down (Gallons)
Connection size Female
Price
20-40
30-50
40-60
FL-7

22 gal

16.5" X 34.1"
8.8
7.5
6.5
1"
$398.00
FL-12

35 gal

16.5" X 48.9"
14.1
11.9
10.3
1"
$ 499.00
FL-17

50 gal

21.4" X 43.3"
20.1
17.0
14.7
1-1/4"
$ 745.00
FL-30

90 gal

24.2"X 57.0"
36.20
30.6
26.50
1-1/4"
$ 955.00
FL-40

119gal

24.2" X 72.1"
47.9
40.5
35.00
1-1/4"
$1295.00
To order , select the model of your choice and click on the ADD to CART Button.
Pro-source Pressurized Water Tanks.
Pro-source Pressure tanks

Similar in performance and size to Pro-source plus tank at unbelievable prices.
Pro-Source Plus Pressurized Steel Water Tanks.
Pro-Source Plus Premium Pressure tanks

Stainless Steel Service Connection

Metal Air Valve Assembly

125 PSI Maximum operating pressure in tanks 50 gallons and greater.
FIBREWOUND Pro- Source Composite Pressurized Water Tanks.

PRO-SOURCE COMPOSITE FIBER WOUND PRESSURE TANK WITH EASY REPLACEABLE AIR CELL.